Wood is durable, cost effective, and produces a gratifying tactile experience. It can compliment the theme of a variety of games and it is infinitely customizable. Most of Panda's wooden components are made from high-quality birch; a durable and dependable wood.
This webpage is divided into three main sections. The first section discusses details of various options and choices that must be made when filling out your game's specifications on the quote form. The second section discusses preparing a Component Specification Sheet when ordering your component and any considerations that must be taken into account during the creation of that file. The final area has miscellaneous tips and tricks. The second and third sections will be of most use to graphic designers, illustrators, and others who are creating the files needed to manufacture the wooden component.
quote form specifications
When filling out the quote form, for Wooden Components in your game, there will be certain specifications that have to be defined as shown below: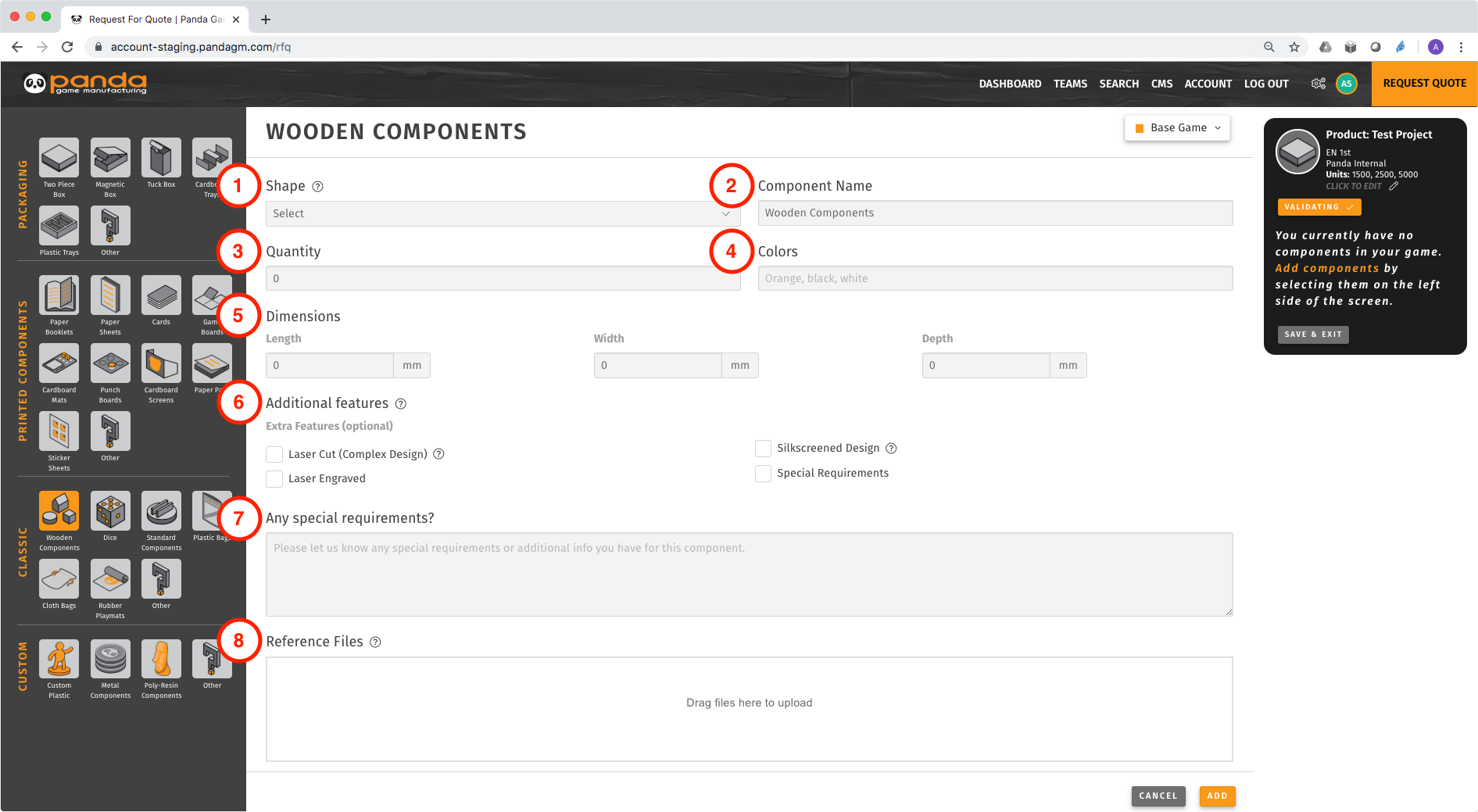 1. Shape
Choose from one of the standard shape options, or choose custom if you have a unique design. Create a new entry for each unique shape.
2. Component Name
Include a unique identifier if you have multiple custom wood shapes in your game. For example, you may name your first entry "Dragon Meeple" for your dragon shape. Then, create a new entry for your "Knight Meeple."
3. Quantity
Enter the quantity of this shape.
4. Colors
Provide either a general color or specific pantone color (https://www.pantone.com/color-finder). You may include multiple colors for each unique shape. For example, if you need a red meeple, a blue meeple, and a black meeple, enter: red, blue, & black.
5. Dimensions
Please provide the dimensions of your wood shape. Please note that cubes should be no smaller than 8mm. For reference, a standard meeple is 16x16x8mm.
6. Additional Features
Let us know if any of the wooden pieces have any hidden information, stacking, flicking, or interlocking requirements.
Extra Features (optional), please check all that apply to your wooden component.
Laser Cut (Complex Design): Laser cutting is used when your design has undercuts that are too complex to be made by machine. Laser cutting costs more than machine cutting.
Laser Engraved: allows you to carve onto the surface of your wood.
Silkscreened Design: Silkscreened images may be printed onto the flat surface of a wooden component. Typically only 1 or 2 colors are used for each silkscreened image. Please indicate the number of colors in your silkscreened design.
Special Requirements
7. Any special requirements?
Does your color need to perfectly match a color on your printed components? Does this wooden component represent any hidden information? Does it have any stacking, flicking, or interlocking requirements? Are there any requirements that have not otherwise been addressed? Please detail these requiremnets below.
8. Reference files
If you have pictures of your component that will help us understand it better, please upload them here. If this is a custom wood piece, please provide a drawing of your design to help us accurately quote your game.
component specifications
This section will show you how to submit your design to Panda using a Component Spec Sheet. The Component Spec Sheet can be found on our tools page: pandagm.com/tools (or request the form from your Project Manager). The Component Spec Sheet pdf can be directly opened and editied in Illustrator. After filling it out, just save it as a pdf. You may also choose to create your own spec sheet. Just ensure that any spec sheet includes the following information.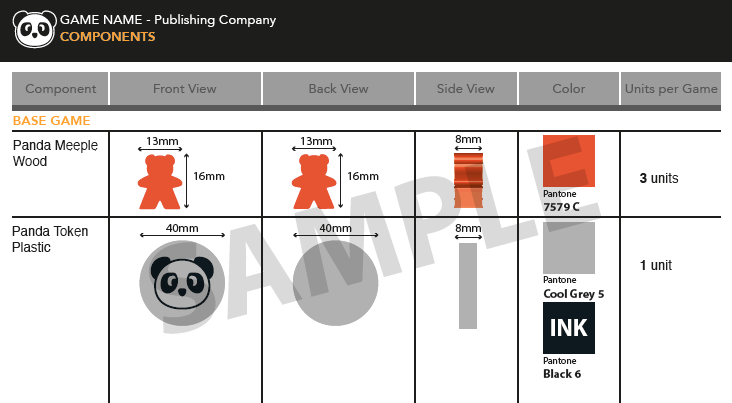 1. Shape
When submitting your designs to Panda, please provide the exact specifications of your shapes. If this is a non-geometric shape, we request that it be submitted in vector. They do not need to be 3D rendered.
2. Silk Screening
To add more detail, silk screened images may be printed onto the flat surface of a wooden component. Silkscreening can add faces to meeples or windows and doors to a building. Some older board games use stickers to achieve a similar effect, but silk screening is more durable and precise, thereby conveying the premium quality of the game. Typically only 1 or 2 colors are used for each silk screened image, as additional colors raise the cost and can cause the image to appear muddled. When placing a request for screen printed wooden pieces, please indicate the number of colors in your design. Any silkscreened image must be at least 1mm wide.
3. Laser Engraving
To submit a laser engraved design, be sure to provide a vector drawing of what areas are to be engraved.
4. Pantone Colors
For production, we can not choose which shade of blue or red you prefer. Provide a specific Pantone color found here: Pantone Color Finder
tips and tricks
Custom Shapes & Complexity
Although we commonly use standard wooden shapes such as cubes and discs, all of Panda's wooden components are custom made. We don't have buckets of meeples waiting to be added to your game, so it is super easy to customize the shape, color, and size of your wooden pieces.
Typical wooden pieces for games can be produced via machine or laser cutting processes. Most pieces are machine cut, which is a high quality and cost effective method. Making machine cut meeples, is a lot like cutting a loaf of bread. We'll use a long piece of wood cut into a meeple shape (our loaf), and then slice off each individual meeple. This process works well for simple designs, such as houses or discs, which are flat on two sides and contain no undercuts.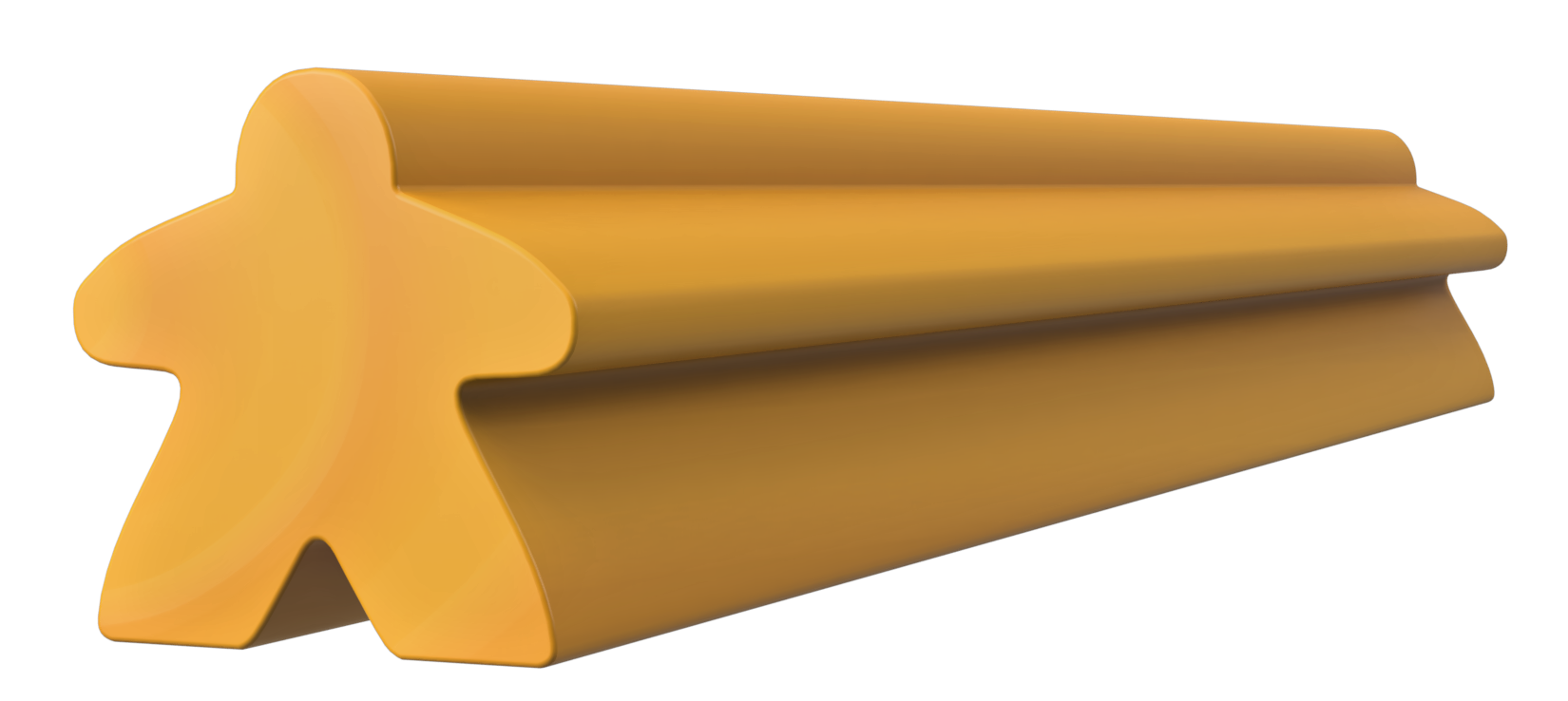 Laser cutting is like using a cookie cutter: a sheet of wood is cut into unique shapes with laser precision. There are two reasons that some designs require the more expensive process of laser cutting. First, if the wood bits have hidden information on them and it is very important for every single piece to be the exact same dimensions as the others, we will use a laser cut to ensure the highest possible level of uniformity. Second, if you have designed a wooden token that has undercuts that are too complex to be made by machine, we will have to use laser cutting.
Silk screening on one color is more cost effective than using two or more colors. Silk screening on both sides is more expensive than on just one side.