Cards are often an integral part of tabletop games. Panda offers a wide variety of standard card sizes to suit your game's unique needs. The specification for cards include various materials, sizes, finishes, and packaging options. In addition there are technical aspects to consider when designing cards.
This webpage is divided into three main sections. The first section discusses details of various options and choices that must be made when filling out your game's specifications on the quote form. The second section discusses various considerations that must be taken into account during the creation of files. The final area has miscelaneous tips, tricks and templates. The second and third sections will be of most use to graphic designers, illustrators, layout specialists and others who are creating the actual pdf files.
Quote Form Specifications
Panda's card offerings go well beyond our standard bluecore. With 20 different standard sizes, three different paper cores, and a variety of finishes to jazz up your cards, Panda can turn an otherwise standard component into a highlight of your game.
When filling out the quote form, for each size of card in your game, there will be certain specifications that have to be defined as shown below: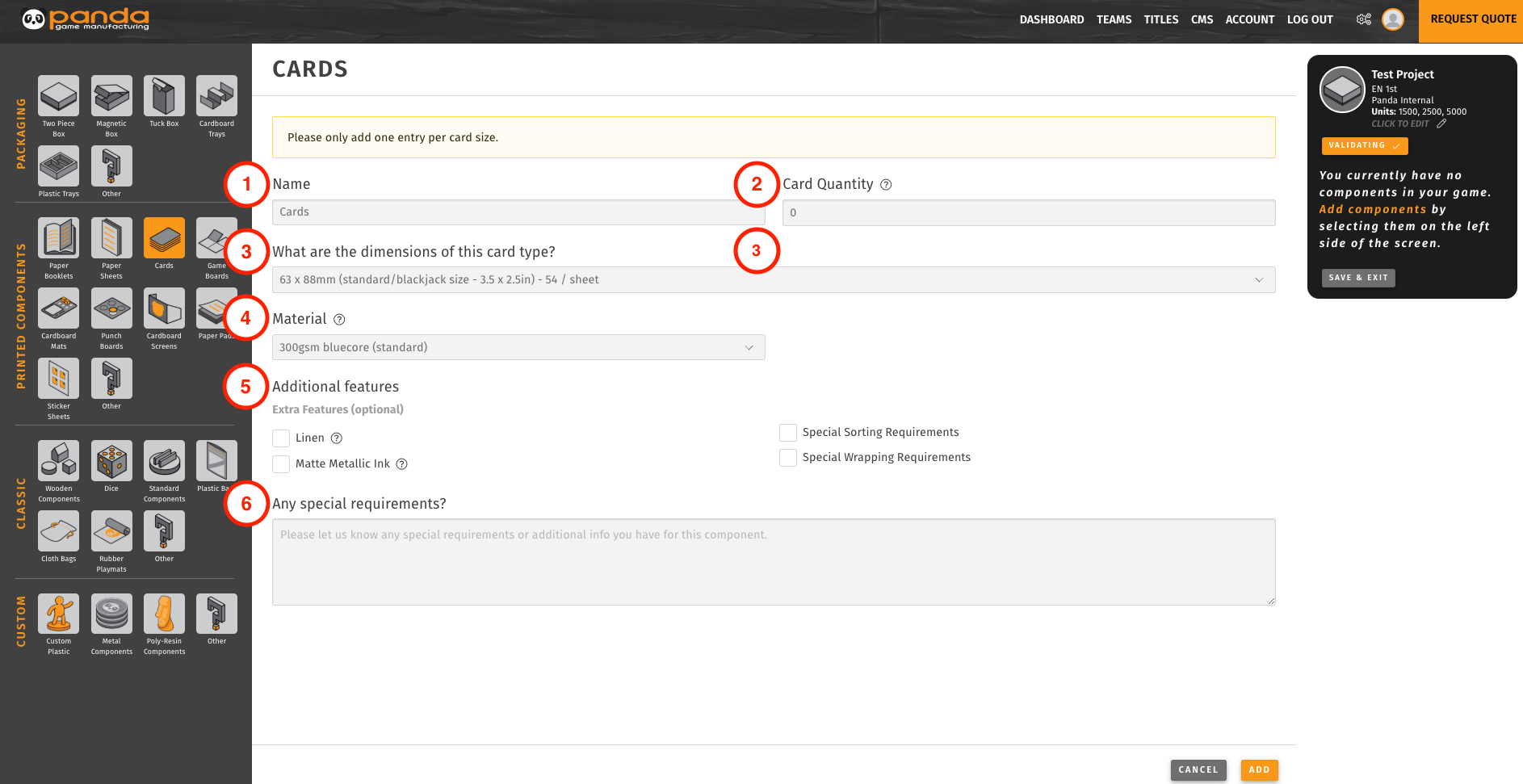 1. Name
To help keep things clear, after the word "Cards" you can add a descriptor to better identify the type of cards. Whenever possible, please have one card entry for all of the cards of that size.
2. Card Quantity
Using up exactly half of a sheet or a full sheet will maximize savings. Adding a few cards to use a full sheet doesn't add much cost. For example, if your deck of poker sized cards has 50 cards, you could go up to 54 with minimal extra cost. However having a deck of 56 cards will require printing of two sheets to complete a deck, which will cost more. To see how many cards come on a sheet, look at the card sizes in the next entry below.
3. What are the Dimensions of this card type?
Panda offers about 20 different card standard card sizes. The six most common are:
44 x 67mm (mini size) - 84 / sheet
57 x 87mm (bridge size - 3.5 x 2.25in) - 60 / sheet
59 x 91mm (euro size) - 45 / sheet
63 x 88mm (blackjack size - 2.5 x 3.5in) - 54 / sheet
70 x 70mm (square size) - 56 / sheet
70 X 120mm (tarot) - 32 / sheet

4. Material
Panda has three standard material options for cards.
300gsm bluecore: Our standard cardstock, and the most common choice for our clients. A durable and cost effective choice for most games.
310gsm ivorycore: A premium option for cards which is thicker than bluecore. A good choice for games that involve heavy shuffling or trading cards around a table. A cost effective upgrade to the quality of your game.
310gsm blackcore: The most premium option with the highest durability. Blackcore costs significantly more than bluecore and ivorycore, so it is only recommended for games with very few cards or that will see heavy use like trick taking games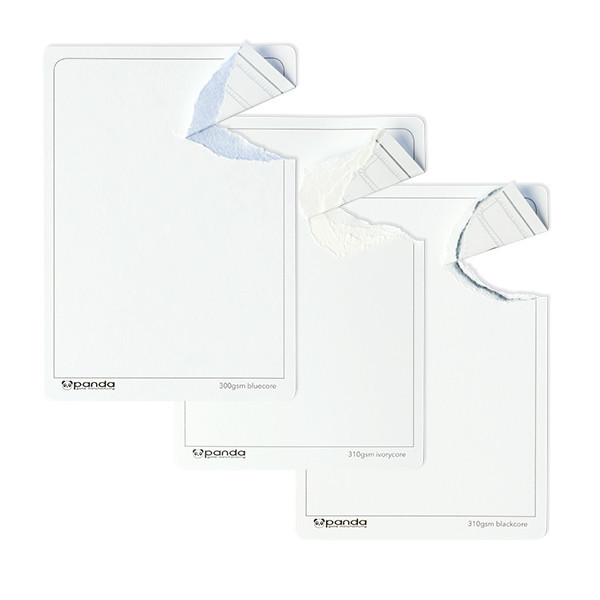 5. Additional features
Check the appropriate boxes if the cards require any of the features listed.
Linen - Linen embossing adds texture to a printed component. It makes a great upgrade or stretch goal. We recommend adding linen embossing to any component with a gloss finish to reduce the amount of glare.
Matte Metallic Ink - Matte metallic ink is a fifth ink added to the CMYK printing process to give the area a subtle metallic effect.
Special Sorting Requirements - you can detail these requirements in the comment box below
Special Wrapping Requirements - you can detail these requirements in the comment box below
6. Any special requirements?
Use this space to describe any special requirements for the cards, or additional information Panda needs to know regarding the cards. For example if you checked special sorting requirements above please describe those sorting requirements. If you selected Special wrapping requirements above, please describe those requirements. A Panda project manager will contact you if we need more information about your special requirements.
Design Specifications for print files
Below are technical considerations that need to be considered when creating files for print. A good place for an introduction to preparing files for print is our Panda Design Guidebook available at pandagm.com/tools This section will useful for be designers, illustrators, layout specialists and others who are creating the actual pdf files. Following the guidebook and the information below will result in files that will need less adjustments and can move through the preproduction process faster.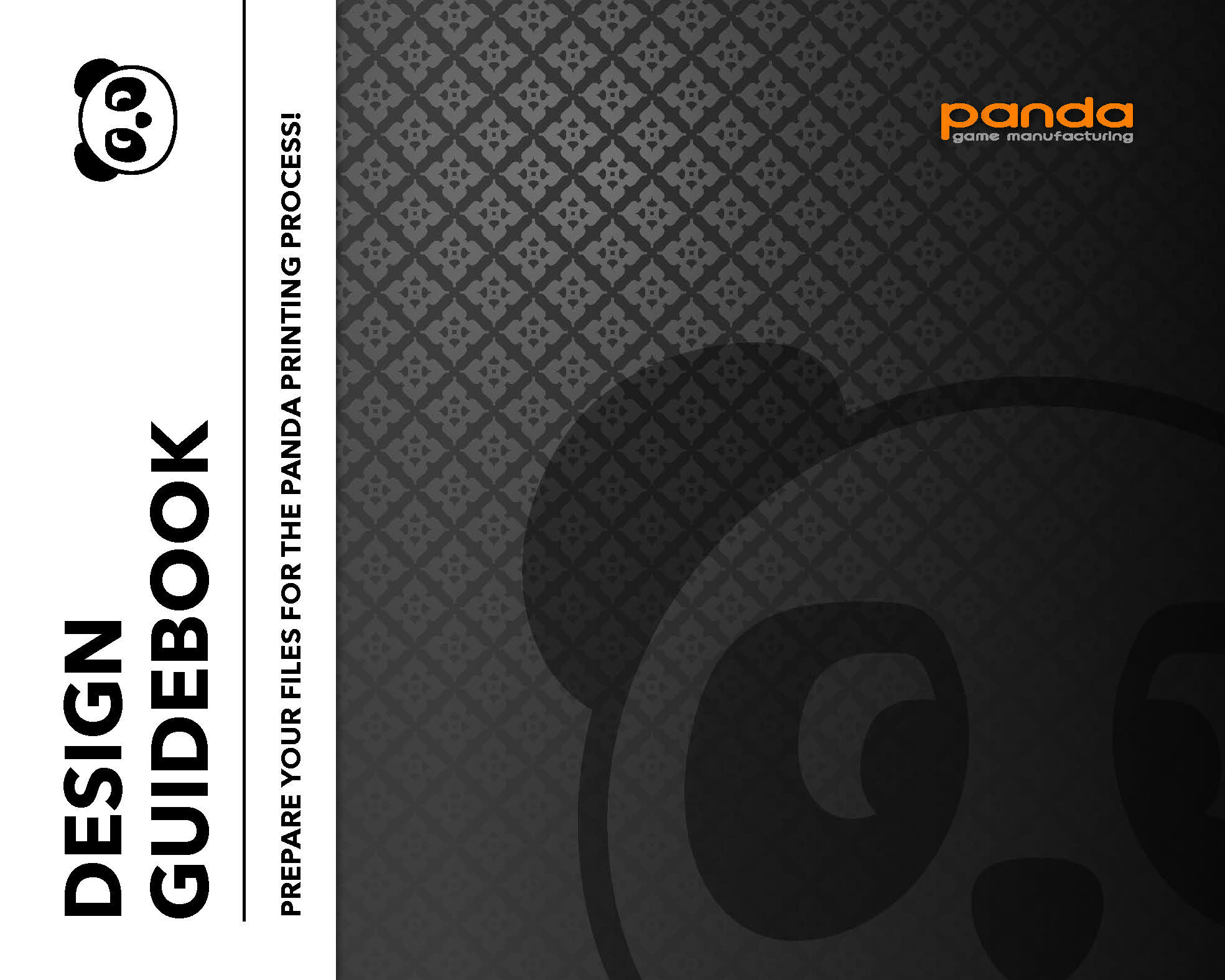 When creating files for print, Panda has five main points that need to be followed, with additional points depending on the specific print item. These points are listed and described below.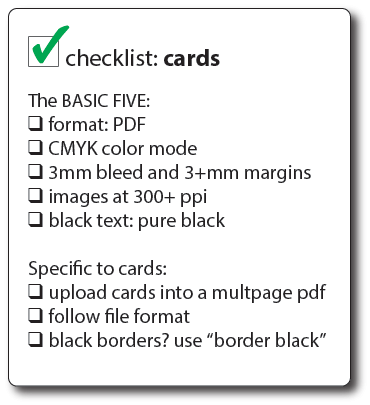 1. All files submitted as PDFs
Creating a PDF is pretty easy these days. When saving your PDF, keep in mind:
Your PDF should be compatible with Acrobat 7 (PDF 1.6) or higher.
Your PDF should use the color profile FOGRA 39 (ISO12647-2) to match our factory's color calibration.
It is not necessary to include trim marks, registration mark, or color bars.
To make things even easier, Panda has a PDF Export profile available for Adobe products that will set the items above, and do a couple other neat tricks, such as convert RGB images to CMYK when the file is exported. You can find that profile at www.pandagm.com/tools
2. All files in CMYK color format
Large scale commercial printing uses an offset printing process, most commonly consisting of the use of CMYK plates (Cyan, Magenta, Yellow, Black). All files must be submitted in CMYK color format. Do not use RGB colorspace for your files. RGB is a format for onscreen images.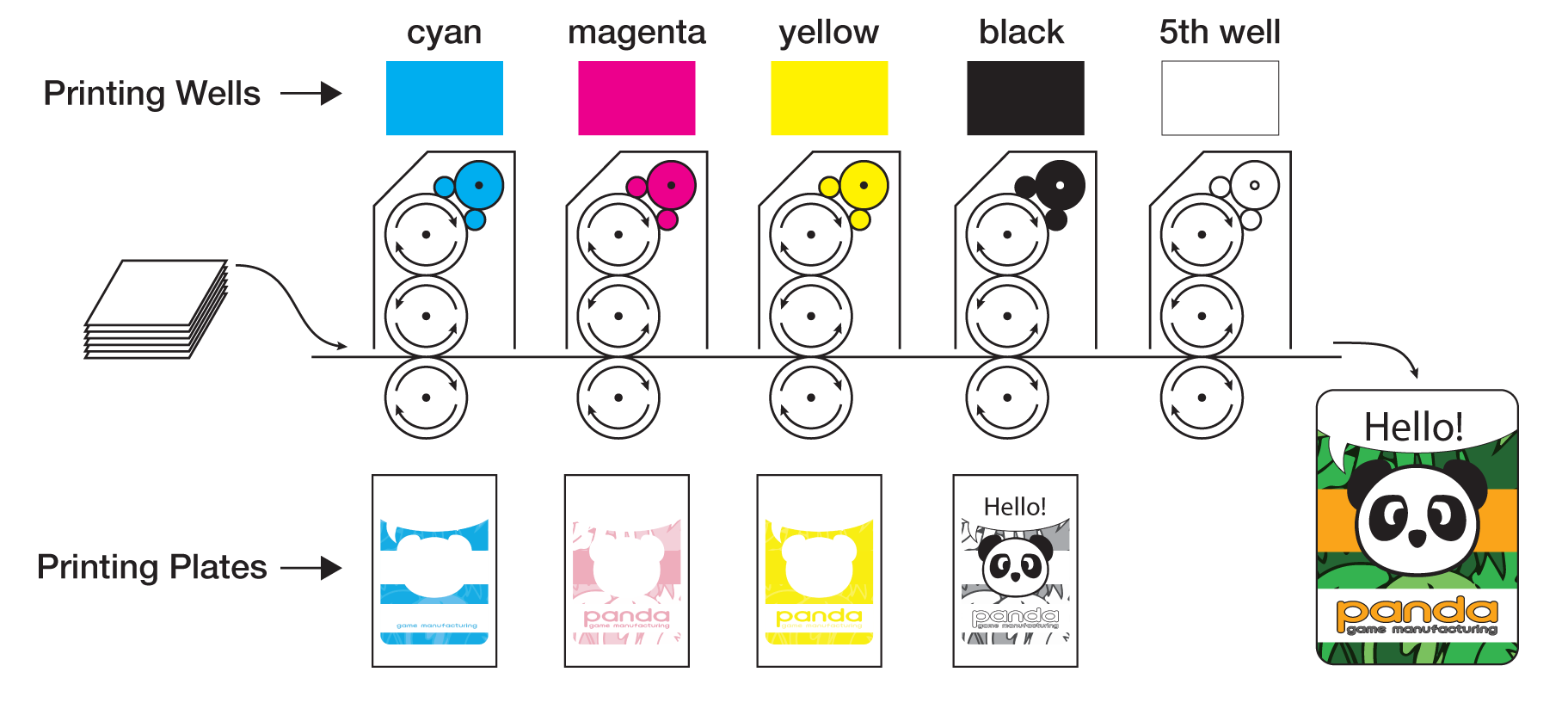 3. Images at a resolution of 300ppi or above
The print industry standard is to have all images at 300+ ppi. Using lower resolution images runs the risk of your images appearing blurry or pixelated.
4. All files have 3mm of bleed and at least 3mm of margin
All files to have 3mm of bleed, and at least 3mm of margin: Bleed and margin issues are a common problem found during prepress checks, but they are easy to avoid! Bleed is a printing term that refers to the artwork that goes beyond the edge of the dieline (or trim line) for your component. Artwork and background colors should extend at least to the edge of the bleed line. Maintaining the recommended bleed will ensure that unprinted edges do not appear on your components. All files require at least 3mm of bleed on each side; some components may require more. Margin is the area between the main content and the edge of a page. Most printed components have a trim tolerance of +/-1mm. Keeping your margin free of text or images means that your content won't be unintentionally cut off and the final product won't appear off-center. Please keep pertinent artwork and all text within the margin line.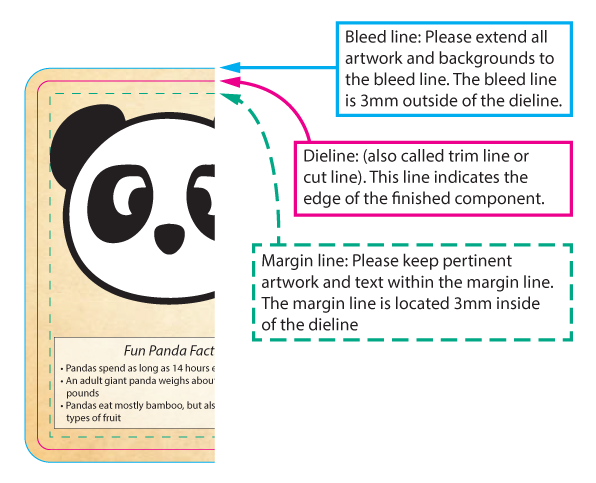 5. Black text should be pure black (C:0% M:0% Y:0% K:100%) and set to overprint
The reason we ask that all text be in Pure Black is that our eyes are trained to notice extremely small variations when deciphering text. For this reason, we strongly recommend using a single color plate when designing text for print as the smallest misalignment of the printing plates may cause typefaces with thin strokes to appear slightly blurry. Pure black is the best of those four colors to use for type as it is the easiest to read.
6. UPLOAD CARD DECKS AS A SINGLE FILE
File format: When submitting cards, you can generally upload the file as a multi-page PDF with the card back as the last page. Do not upload 55 unique single page PDF files for a 54 card deck + one back.
7. FOLLOW FILE FORMAT
If you have multiple different card backs, upload a file for the card fronts, and a second file for the card backs.
Example: Deck A has 54 cards with a single back. The PDF for Deck A will be 55 pages in length, with the 55th page being the card back for the preceding 54 cards.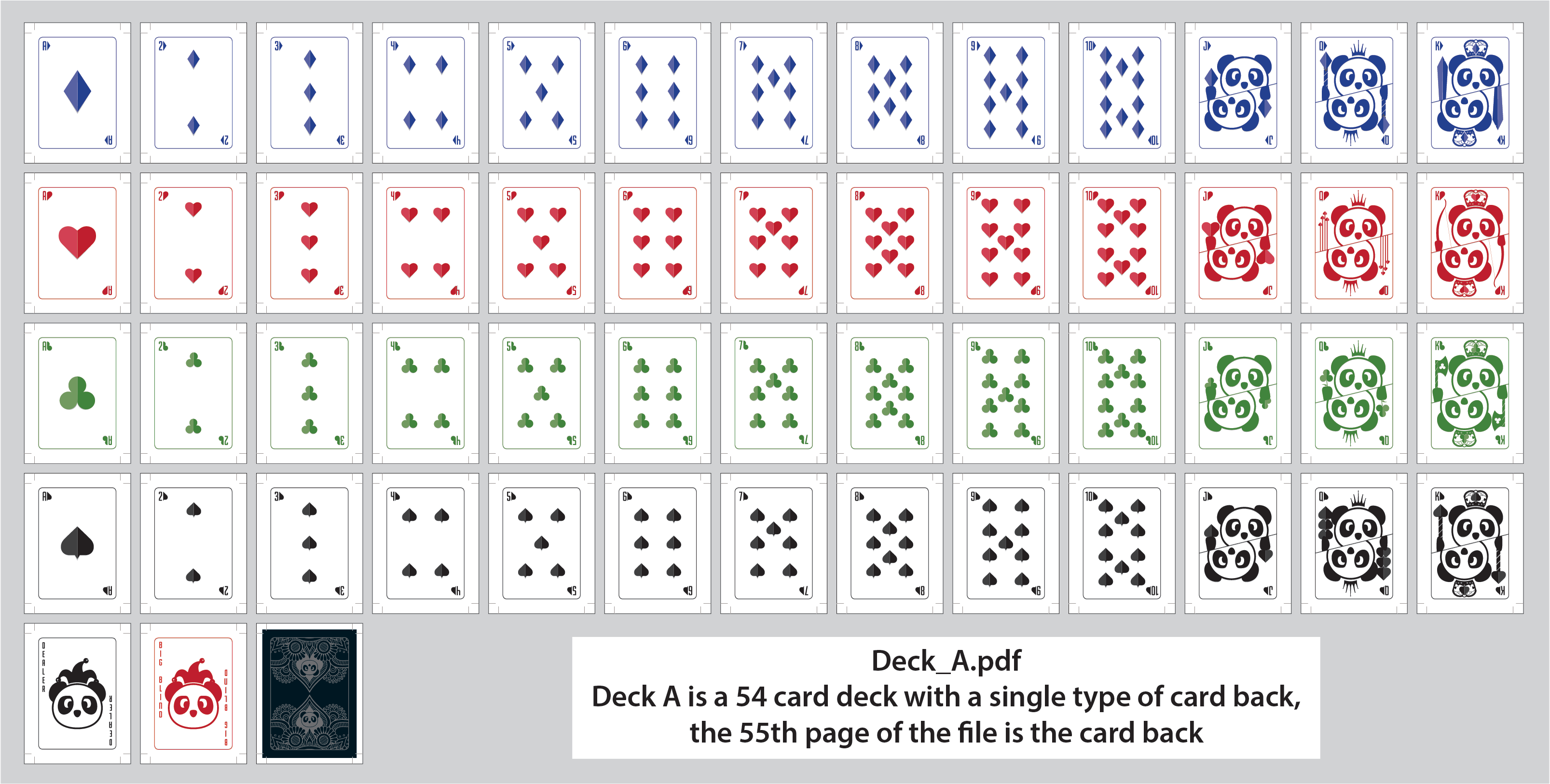 Example: Deck B is a smaller deck with only 12 cards with multiple backs. There will be two PDFs for Deck B, one with the card fronts, and a second file with the card backs. Please be descriptive in naming your file.


8. BLACK BORDERS? USE "BORDER BLACK"
For a deep, consistent black that will be easier to color match between print runs and expansions consider using a color formula of (C:40% M:0% Y:0% K:100%).

tips tricks and templates
Panda offers card templates in .indt format at our templates page in the Tools section of the website. The template generator is also a good place to see all of the different sizes of cards Panda offers (more than just the common card sizes listed above).
If you are building a template inside of InDesign or Illustrator, remember to set the bleeds to 3mm, and when exporting the file, make sure to check "use document bleed settings" so the bleed area is included in the pdf. If you are experienced in using InDesign, there is a Data Merge feature that can help create many custom cards relatively quickly.